Michael is 80 years of age and obese.  He definitely falls into the category of the "elderly at risk" we are constantly bombarded about – we must protect them – we must jab them – we must isolate them!  But Michael D. trots the length and breadth of Ireland on a daily basis – check out just a few dates below.
He doesn't seem to have made up his mind about the mask.  Wear it?  Don't wear it?  wear it indoors?  Wear it outdoors?  WTF?  Nor is it, apparently, necessary for those around to wear it either, unless they are servants or children.
So why the hell are you wearing a mask?  Are you a slave?
11 Nov 2021
 President Michael D. Higgins and Sabina Higgins at the Gate Cinema 9 Nov 2021

Montenotte Hotel 9 Nov
9 Nov .. date of event? Michael D.Higgins opened up the Community-Led Climate Action event @tudublin . On the panel was Sarah Fogarty, Gerard Meaney, @jpprend_jp and @OisinCoghlan – ok so lets be clear, we can sit down close together indoors without actually having to be eating at the time?
mask on – is he bowing to someone or has a pain in his heart?
The project, for which the club will receive a grant worth over €190,000 from Creative Ireland's Creative Climate Action Fund, was announced at an event in @WeAreTUDublin , attended by
@PresidentIRL 
Michael D. Higgins
.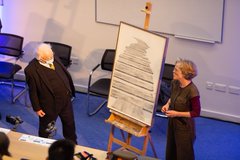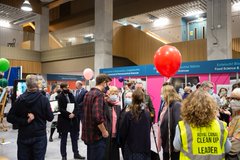 President Michael D. Higgins , who met with the #ConversationsOnAPlaywright participants at @TheLirAcademy -4 Nov 2021
Mask on – Mask off – same event, same room – can't he make up his mind or is it something to do with optics?
The Connaught Rangers commemoration event in Teach Laighne 2 Nov 2021 One comment on the tweet "Such a shame you cannot see their faces" THE CHILDREN'S!
Will I wear it?  Won't I wear it? – 31 Oct 2021
President Michael D. Higgins and President of the Federal Republic of Germany Frank-Walter Steinmeier together with their wives Sabina Higgins and Elke Büdenbender visited the Ros na Rún in An Spidéal, Connemara. Picture: Andrew Downes/Xposure – 29 Oct 2021
30 Oct 2021
29 Oct 2021
Out in Public – mask on for the plebs
16 Oct 2020